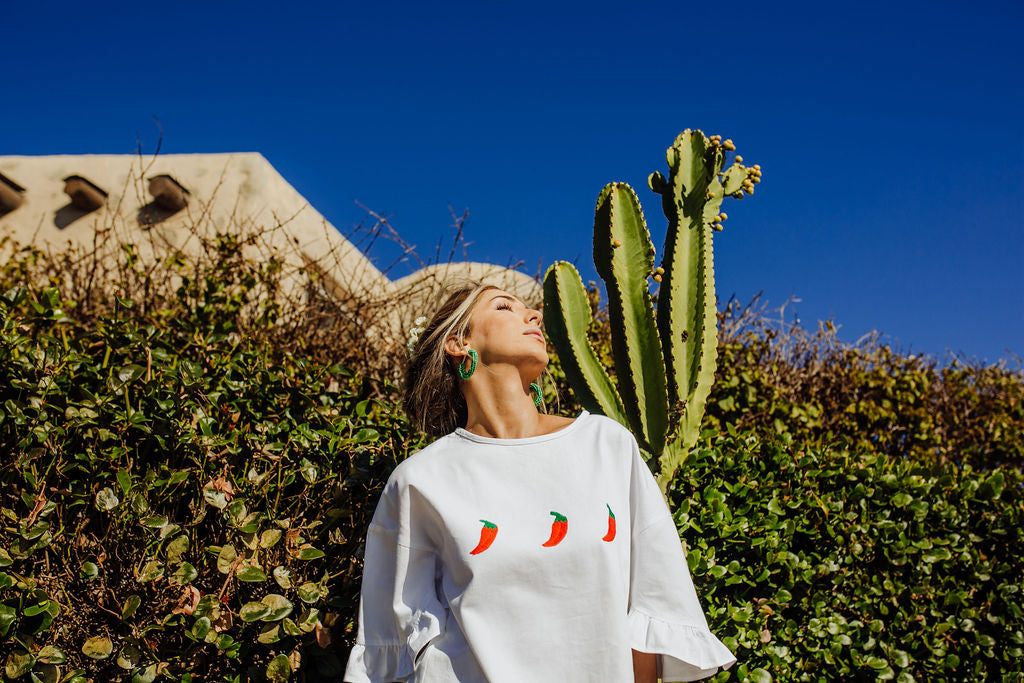 In a world where conscious consumer choices are gaining momentum, the clothes we wear can play a significant role in promoting a healthier planet. If you've been raising an eyebrow at GMOs, cotton—a widely used fabric—might be the unexpected culprit. In this blog post, we'll explore the compelling reasons why choosing organic cotton over conventional cotton is not just a fashion statement but an environmental and ethical commitment.
The Dark Side of Conventional Cotton
Conventional cotton, often dubbed the world's "dirtiest crop," is deeply entwined with environmental and health hazards. A staggering 16% of the world's pesticides are utilized in cotton production, poisoning not only the soil but also contaminating water sources. The World Health Organization classifies eight of the top 10 pesticides used in U.S. cotton production as moderately to highly hazardous. This chemical-intensive approach not only endangers cotton farmers and their families but also contributes to water pollution and significant greenhouse gas emissions.
The Water-Intensive Tale
While non-organic cotton may be a breathable fabric, it comes at a high environmental cost. A single T-shirt requires a whopping 2,500 liters of water to produce, earning cotton the title of one of the world's thirstiest crops. The environmental impact of conventional cotton is further amplified by the extensive use of synthetic fertilizers, responsible for 24% of global insecticide consumption, despite cotton cultivation occupying only 2.5% of cultivated land.
The Organic Cotton Revolution
Enter organic cotton, a sustainable alternative that prioritizes both environmental and social well-being. Organic cotton is grown without the use of harmful pesticides, synthetic fertilizers, or genetic modifications. Instead, it relies on natural, Earth-friendly practices such as cover cropping, organic fertilizers, and beneficial insects for pest control.
Benefits of Choosing Organic
Organic cotton farming methods leave minimal ecological footprints. With no persistent pesticide or fertilizer residues, organic cotton contributes to soil fertility and increased biodiversity. The fabric itself is processed without toxic chemicals, utilizing natural or biological methods such as azo-free sustainable dyes and chlorine-free bleaching. Choosing organic cotton is not just about a wardrobe upgrade; it's a conscious decision to protect yourself, textile workers, and the environment from harmful chemicals.
A Sustainable Sip
One of the most compelling reasons to embrace organic cotton is its water efficiency. Organic cotton cultivation requires a mere 9% of the water needed for conventional cotton, significantly reducing water consumption and minimizing water pollution. By opting for organic cotton, you're not just making a fashion choice; you're contributing to the preservation of one of our most precious resources.
To conclude, in a world where every purchase has far-reaching consequences, the choice between organic and conventional cotton goes beyond aesthetics. By embracing organic cotton, you're not only choosing a sustainable wardrobe but actively participating in a movement toward a healthier planet and a fairer global supply chain. It's time to make the switch, one organic cotton garment at a time.
Foot note: Data is sourced from renowned eco-forward thinking societies such as: The Water Footprint Network, The World Health Organization, The Pesticide Action Network UK and The Rodale Institute.